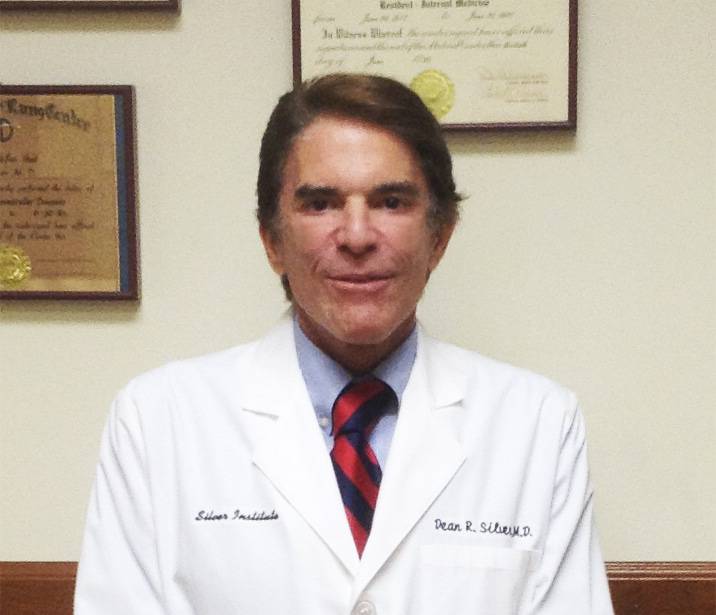 About Dean R. Silver, M.D.
Dean R. Silver M.D. is a fellowship-trained cardiologist and board-certified in many specialties. He specializes in the practice of integrative and alternative medicine for the treatment of cancer, Lyme disease, and complex chronic disease. In 2000, Dr. Silver was diagnosed with lymphoma, a cancer of the lymph nodes. Rather than undergo traditional chemotherapy and radiation treatments, he treated his condition with alternative modalities such as detoxification, vitamins, hormones, and dietary changes. He is now cancer-free. In the same year, he suffered a heart attack and reversed his heart disease with an integrative approach. He is the only integrative cardiologist in the country to cure himself of both.
Drawing from his own medical experience and failed experiences with conventional medicine, Dr. Silver offers patients a more personalized approach for the treatment and prevention of cancer and other complex diseases such as cancer. Lyme Parkinson's, Lyme Disease, and mold toxicity Dr. Silver is passionate about a more naturopathic approach to healthcare in addition to traditional allopathic medicine to formulate an individualized integrative care plan.
Dr. Silver personal story of healing
Dr. Silver grew up and watched his father develop lung disease and Alzheimer's from a mold infection behind a wall in the home. Both his parents suffered from cancer and because of this, he wanted to pursue a medical career. His premedical studies were done at the Washington and Jefferson College in Washington, Pennsylvania. He majored in biology. During that time, he was involved in FDA study for premedical students at the Hahnemann Hospital and medical college in Philadelphia, Pennsylvania. The research involved the study of echocardiography, which is the study of the heart. This is where he knew he wanted to be a cardiologist and practice critical care medicine.
After graduating from Temple University school of medicine in Philadelphia, Pennsylvania completed an Internal medicine residency at the Albert Einstein Medical Center. He then completed a cardiology fellowship at the Deborah Heart and lung center and entered private practice. He exclusively practiced cardiology.
In 2000 he became one of the few physicians in the world to become board-certified by the American Board of Internal medicine. The following year he was aboard examiner and examined other doctors from around the world. This is the year he suffered from myocardial infarction and had cancer. This year he expanded his medical practice after traveling around the world and learning from teachers in several countries.
In 2007 he became board-certified in insulin potentiation therapy. This is low-dose chemotherapy used in cancer treatments. In 2014 he graduated from the American medical college homeopathy and began integrating homeopathy in his medical practice. In 2015 he became a fellow of the American Academy of Ozone therapy.
Dr. Silvers trained in all forms of traditional and integrative medicine. Dr. Silver and his wife, Jeannette, practice scientific, peer-reviewed medicine. He has had all the testing and most of the treatments performed at his office. He is dedicated to excellence. He can help you on your path to excellent health and wellness.
Dean R. Silver, M.D
A message from Mark for new patients
Stage 4 Bone Cancer Remission
Patient testimonial prostate cancer